Banana Crumb Muffins
Moist and flavorful banana muffins topped with a brown sugar crumb topping that will melt in your mouth.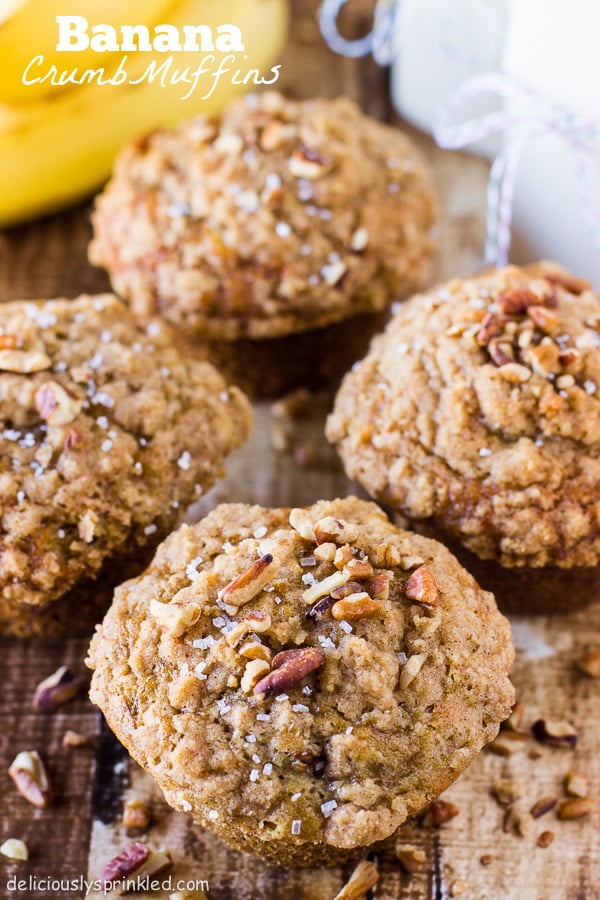 This is one of those old family recipes that is just plain good! It's so simple and purely delicious. Everyone in the family is in love with this recipe and these banana crumb muffins sure don't last long in our house!
This is the perfect muffin for any banana lover and the brown sugar crumb topping is perfect! This is one of my all time favorite muffins and with bananas getting ripe in the house, I had to make these. The aroma that filled the house was AMAZING and it was so tempting to pop one in my mouth while I was taking pictures. Ahh they are so good!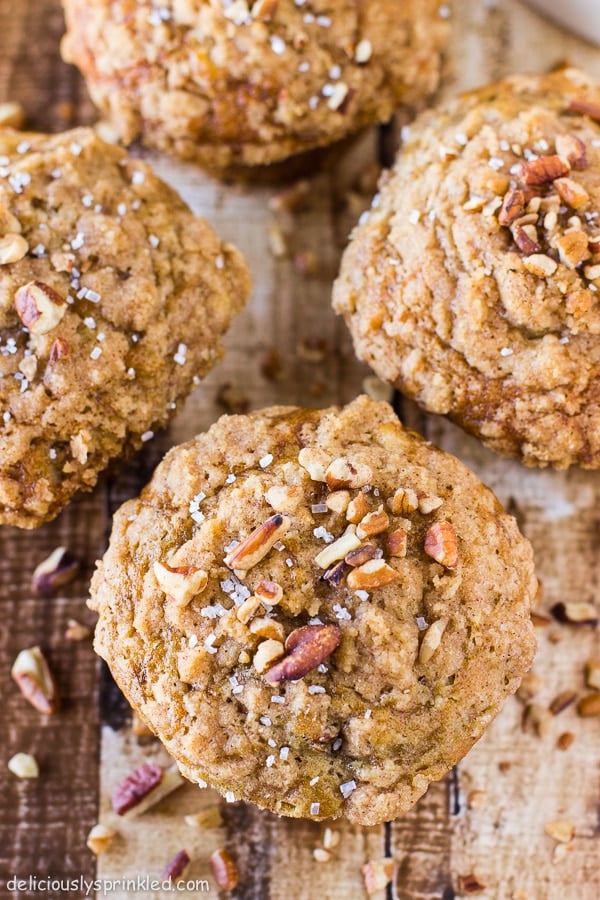 BAKING TIP
Pecans, chocolate chips, or walnuts would make a great addition to theses banana muffins, I added 1/2 cup of pecans to the batter and sprinkled a handful of pecans and sugar crystals on top for an added crunch!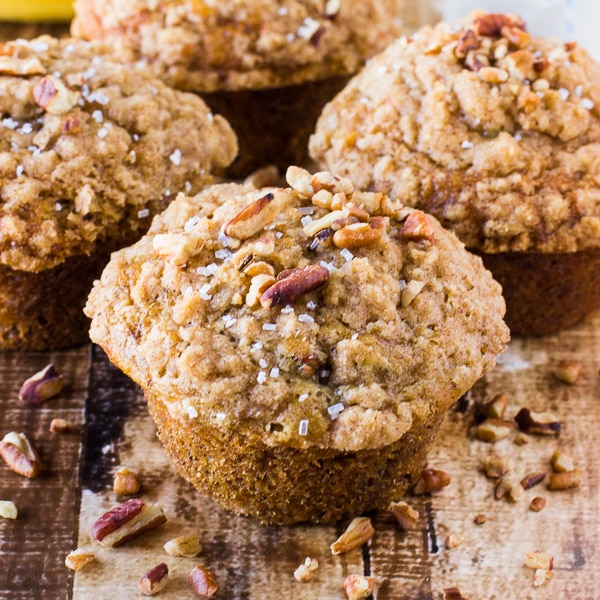 Yield: 10 Muffins
Banana Crumb Muffins
Additional Time 35 minutes
Total Time 35 minutes
Ingredients
1 1/2 cups all-purpose flour
1 teaspoon baking soda
1 teaspoon baking powder
1/2 teaspoon salt
3 bananas, mashed
1 teaspoon vanilla
1/2 teaspoon nutmeg
3/4 teaspoon cinnamon
1 egg, lightly beaten
1/3 cup canola oil
1/2 cup granulated sugar
1/4 cup packed brown sugar
1/2 cup chopped pecans
1/3 cup golden brown sugar, packed
2 tablespoons all-purpose flour
1/4 teaspoon ground cinnamon
1 tablespoon butter
1/4 cup pecans for topping, optional
Instructions
Preheat oven to 375F degrees. Lightly grease 10 muffin cups, or line with muffin liners.
In a large bowl, mix together 1 1/2 cups flour, baking soda, baking powder, cinnamon, nutmeg and salt. In another bowl, beat together bananas, sugars,vanilla, egg and canola oil. Stir the banana mixture into the flour mixture just until moistened. Fold in pecans. Spoon batter into prepared muffin cups.
In a small bowl, mix together brown sugar, 2 tablespoons flour and cinnamon. Cut in 1 tablespoon butter until mixture resembles coarse crumble. Sprinkle topping over muffins.
Bake for 18 to 20 minutes, until a toothpick inserted into center of a muffin comes out clean. Sprinkle remaining pecans on the top of each muffin, optional.
Notes
*Store muffins at room temperature in an airtight container for up to 5 days.