Avocado Tex-Mex Dip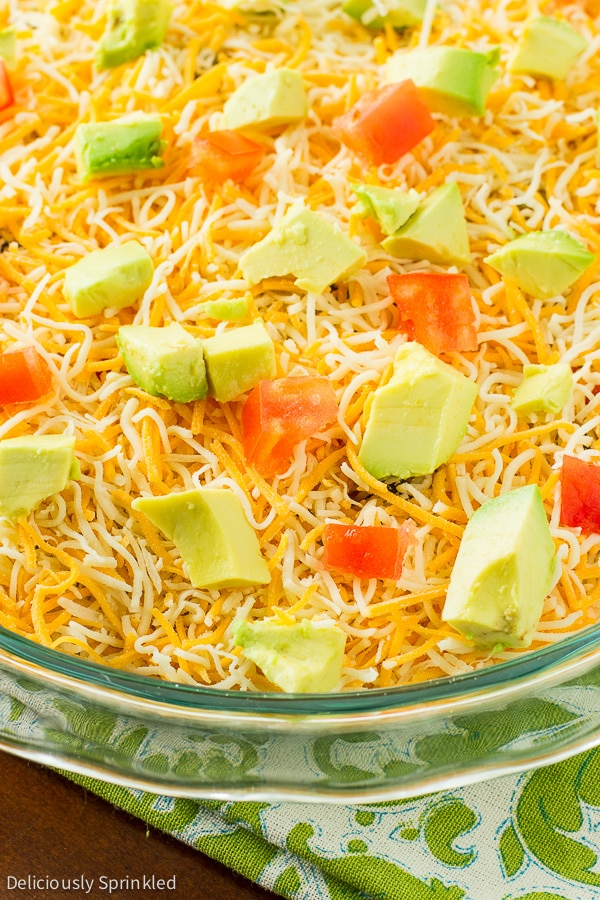 Happy Super Bowl Week! Even though the Packer's didn't make it to the Super Bowl this year, I'm still excited for all the commercials, the half time show, and of course all the delicious game day food, like this Avocado Tex-Mex Dip.
If you love Taco Dip and Guacamole, well then this is the dip for you. It's like the best of both worlds with a layer of mashed avocados, topped with a layer of taco dip and loaded with shredded cheese, tomatoes, olives, and even more avocados. Don't worry if your not a big fan of olives, I have some other awesome ideas to add to this dip below.
But seriously, this dip is my new FAVORITE, go-to dip to make for game day or any day for that matter. I also love that this dip is super easy to make, no need to turn on your oven and bake anything. Just layer it all together and your ready to dive into this delicious dip. I guarantee if you make this Avocado Tex-Mex Dip to bring to your Super Bowl party this weekend, I know that this dip will definitely be a WIN!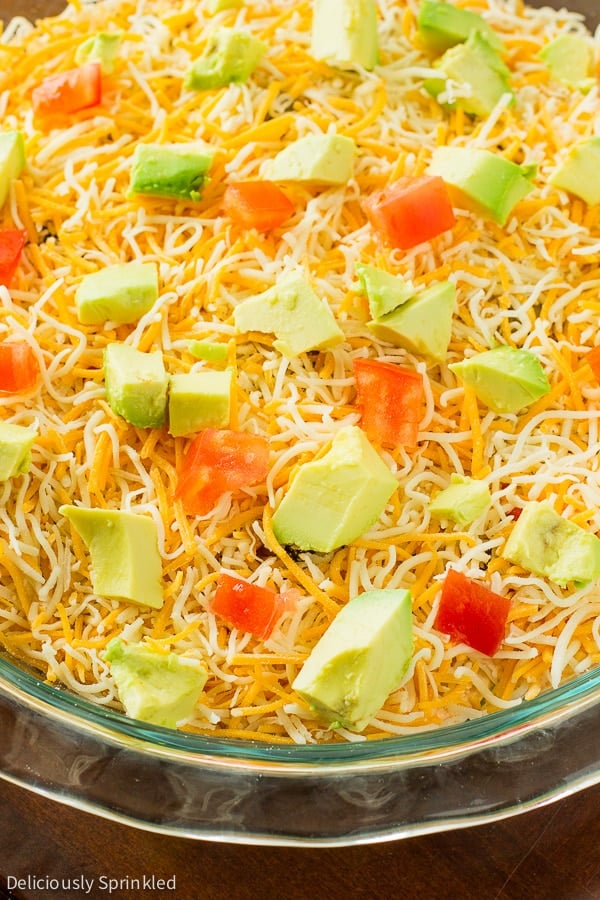 JUST A FEW TIPS:
✔ This dip is BEST on the day you make it because the avocado mixture on the bottom will unfortunately turn brown, which would make this dip not as appealing.
✔ I like to add chopped tomatoes, black olives, and green olives to this dip because I love the saltiness you get from the green olives. BUT if you don't like olives, no worries you can add onions, beans, or even just lettuce.
✔ Serve with tortilla chips or Doritos are my favorite with this dip.
STEP-BY-STEP GUIDE ON HOW TO MAKE THIS AVOCADO TEX-MEX DIP: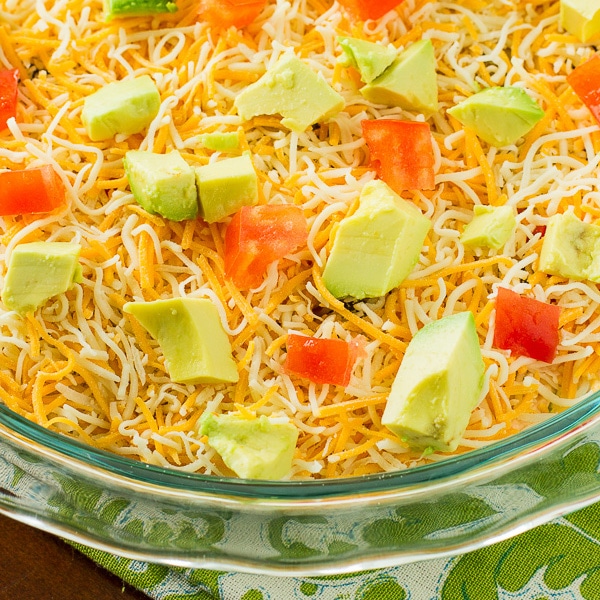 Yield: 8-10 Servings
Avocado Tex-Mex Dip
★ Make sure to read my TIPS above before you start baking!
Prep Time 15 minutes
Total Time 15 minutes
Ingredients
1 cup sour cream
1/2 cup mayonnaise
1 package taco mix
3 ripe avocados
1 cup chopped tomatoes
1/2 cup chopped green olives
1/2 cup chopped black olives
1 1/2 cups shredded cheese
Instructions
STEP 1: In a medium sized mixing bowl, mix together sour cream, mayonnaise, and taco mix until combined. Set aside.
STEP 2: In a small bowl, mash 2 and half avocados.
STEP 3: Layer mashed avocados on to bottom of serving bowl.
STEP 4: Layer taco mixture on top of the mashed avocados.
STEP 5: Top taco mixture with chopped tomatoes, black olives, and green olives.
STEP 6: Then top with shredded cheese, diced avocados, and remaining chopped tomatoes. Serve with tortilla chips or Doritos.
Notes
*Store dip covered in refrigerator for up to 1 day. Dip is BEST served on the day you make it.
BAKING TOOLS I USED FOR THIS RECIPE:
Check out more delicious Appetizer & Dip Recipes…
Try another favorite dip, Cheesy Bacon Ranch Dip next!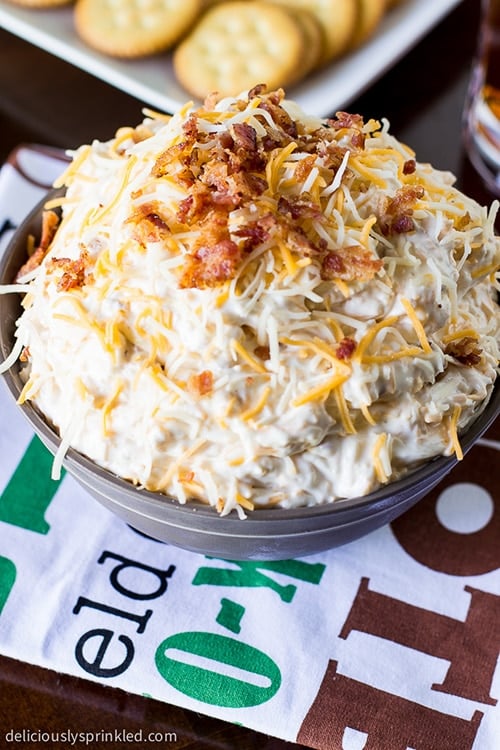 And this awesome game day dip, Buffalo Bleu Cheese Dip!